Cheaper but faster by train from Prague to National park Bohemian Switzerland.
The trip full of surprises and perspectives. Visiting famous places and views in the National Park with local guide. Pravčická gate or Edmund's gorge (note: close during winter season) or visit Bastei (less walking then Gorges) or Jetrichovice view (no tourists area) and other magnificent views of the Elbe canyon. You can quickly and conveniently arrange arrival deposit ride from the main train station in Prague (Praha Hl.n.). Price of the ticket costs around 7EUR, buy online on www.cd.cz/en. Return ticket we will buy together after tour.
Schedule:
8:26 Prague main railway station, train to Decin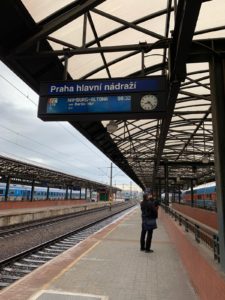 Timetables EC 176 (train from Brno to Hamburg Altona):
departure 8:26 Prague Main train station —> arrival 9:54 Decin hl.n. (I'll pick you up on the platform. I will wear big ranger hat.).
You can buy TICKET ONLINE HERE
or
You can buy ticket at cashbox in train station Prague (note: be here sooner, you need to find it)
09:59 Transport from the train station Decin —> Bohemian Switzerland National park by my car
10:30 Edmund Gorge – a boat trip – 7 km (6 km walk, 1 km on the boat) (during the winter is closed) or Bastei – easy walk 1km or Jetrichovice views or Kamenice Gorges ). (note: we can decide during walking ).
12:30 Lunch (at the restaurant during our trip)
13:00 Pravcicka gate – 5-8 km hike with viewspoints and nature, Gabriella's path
15:00 Afternoon break (coffee or beer during the tour)
17:00 Return to Decin and buy train ticket together and return to Prague by train (train is going generally every hour )
| | |
| --- | --- |
| Tour code: | 3 |
| Duration: | 9 hours |
| Transport: | 5-14 km (depends you like walking) |
| Departures: | 8.26 am |
| Starting point: | main train station on Decin (train from Prague) |
| Arrives: | 5.00 pm |
| Ending point: | main train station on Decin (train to Prague) |
1 person

109 EUR per person

2 persons

89 EUR per person




3- 4 persons

69

EUR per person



Small group (5 and more)
55

EUR per person

Included:
Transport from region, Fees, Drink
You need it:
Sport shoes, Lunch (around 10 EUR)
RESERVATION FORM

---
---